Ukulele Lessons in Barrie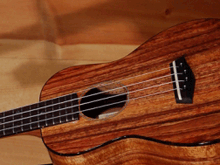 The
Canada Music Academy
offers innovative Ukulele lessons from Certified Academy teachers in programs ranging from jazz, world, electronic, classical, popular music and beyond. This diversity ensures an inspiring, rewarding and artistically challenging experience for every Ukulele student. Our distinguished team of specially trained Ukulele teachers, will structure lessons according to your individual goals, ensuring all students remain motivated and inspired in their Ukulele studies. With many convenient locations to choose from, students can take their Ukulele lessons at home, at our school or at any of our accredited Academy studios located across Barrie and surroundings. You can begin your Ukulele lessons at any time of the year.
Visit
Teachers & Rates
to find an Academy Ukulele teacher near you.
Need an instrument?
Our music store has everything you need for your Ukulele and Academy students are always eligible for discounts. Please contact our Music Store for student rates, rentals or for more information.
Learn more about Ukulele
Locations - Ukulele Lessons at Our Studios
Locations - Ukulele Lessons at Your Home
More Information
Register for Lessons:
Call us or register online. Start any time.
Register Here
Visit Our Music Store, All You Need Music:
Educational rates for brand name instruments and pro audio. Available online 24/7.
Canada's Online Music Store
Latest News
and Events: - Go to
Home Page