Voice - Pop & Rock Lessons at Home in Spencerville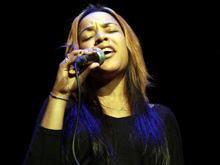 Offering innovative
Voice - Pop & Rock
lessons from the convenience of your home in the
Spencerville
Area,
Canada Music Academy's
certified Voice - Pop & Rock teachers are specially trained to support students through every stage of their musical development. An individualized curriculum created especially for each Academy student, ensures our students not only succeed but also stay motivated and inspired to surpass their musical goals. With a wide range of programs offered in jazz, world, electronic, classical, popular music and beyond, there is something to pique every Voice - Pop & Rock students interests. Whether you taking Voice - Pop & Rock lessons as a hobby or hoping to pursue a career in music one day, the Academy's dynamic team of teachers will ensure that your experience is as rewarding and artistically challenging as possible. Voice - Pop & Rock lessons are available from the comfort of your Spencerville home, from our school, or from our Accredited Academy studios located across Brockville.
Featured below are some of our available
in-home Voice - Pop & Rock teachers.
You can also visit the Teachers & Rates section of our website to search for an in-home lesson, or give us a call and we'll help you find a Voice - Pop & Rock teacher at your home in the Spencerville area.
Loading Teacher List...